Millinery School
The "GC School of Millinery & Design" opened May 2, 2002, as a tribute to Gail's ongoing determination to educate children, women, and men on the importance and fun of millinery design.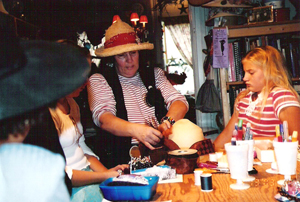 Studio classes are limited to 6-8 people; please contact Gail for a current class schedule.
Note: classes may also be done on location and for larger groups than eight, though smaller sizes are encouraged for more individualized attention.
" Christensen passionately educates students about popular hat styles throughout history, how to shape and decorate hats, and even how to wear one
properly. . ."
- Wisconsin Trails Magazine 2003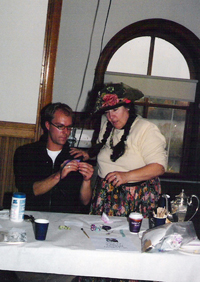 Beginning Millinery Overview –
the first in a series of lectures focusing on millinery design. We recommend this class for anyone interested in hat making and especially those looking to pursue specialty classes.
Victorian Ribbon Flower Making –
Learn to create beautiful ribbon designs that will compliment your fashion accessories. Flowers include: daffodil, pansy, rose, leaf, pod, forget-me-knot and many more.
"Thank you. It is events like this that help us bring people together to explore and enjoy another facet of the wonderful world of art."
– P. Sellon Executive Dir.
Monroe Arts Center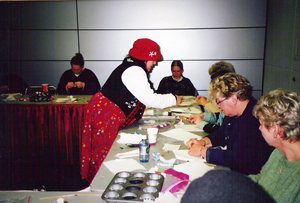 Basic Silk Ribbon Embroidery –
Learn the basic ribbon embroidery techniques including the French knot, straight stitch, rose and Japanese ribbon stitch.